Cimco
DNC-överföring
Cimco DNC-MAX

For over a decade DNC-Max has been the standard by which all other DNC applications must be compared. From its best in class client/server architecture to its unmatched configurability and scalability DNC-Max delivers on functionality, reliability, and value.
DNC-Max meets or exceeds the functionality and flexibility of any other DNC application on the market. DNC-Max is the obvious choice for any size CNC operation.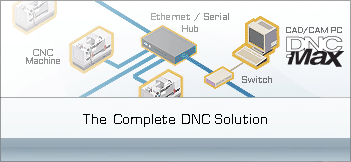 Capabilities
Supports 1 up to 4000 simultaneous ports for DNC or drip-feed when combined with industry standard RS232 communications hardware from companies such as MOXA, Quatech, DIGI, Comtrol, etc.
Remote network configuration and administration of multiple servers from a single point (DNC-Max Client), increases ease of management and installation, and makes it possible to monitor DNC server status from anywhere on the LAN, WAN, or across the Internet. The DNC-Max Client allows users to remotely configure ports on-the-fly without having to stop the DNC-Max Server, or even active file transfers on the same port, while making changes. The port configuration will automatically update when communication to the CNC ends. Users may also remotely configure the DNC-Max server, including server re-start, from any networked PC. The DNC-Max Client UI is the most advanced, most flexible client available.
Several levels of password protection limiting configuration and control options to key personnel.
Powerful remote request and auto name features allow operators the ability to initiate file transfers directly from their CNC control or with the use of hand held terminals for older or CNCs with limited alpha-numeric keypads or other limitations. The remote request supports DNC restart and file looping, extensive directory support including sub-directory support and directory prioritization, directory filters, and wildcards (Ex. P123*).
Multiple send/restart functions give the operator the ability to send from any point in file, specified by line number, block number or tool change – including remotely with remote request.
DNC-Max provides comprehensive real-time logging of DNC system and machine activity, and the ability to send status reports directly to CNC operators.
Extendend capabilities
Parametric System Configuration – unlike any other DNC system ever created DNC-Max utilizes system variables and settings for rapid installation, configuration, and on-going system maintenance. Make a change in one place and it persists through-out the entire system; from the Server down to the Machine/Port settings. This translates into quicker installations, no-hassle management (ex. changing PCs or data locations), and a lower (TCO) total cost of ownership
Machine settings are stored in reusable text files used universally throughout the DNC-Max system. Add new ports to your DNC system by selecting from a set of predefined/preconfigured machine templates or create your own.
Integrated Messaging including E-Mail, and ODBC data collection including links to MS Access, Oracle, Microsoft SQL, and MS Excel
Webmonitoring(tm) allowing users to remotely monitor all DNC server activity from any 'connected' PC in the world! Includes complete WAP support for Webmonitoring via browser enabled PDAs, cell phones, and messaging devices such as Blackberry
Other features
Intuitive GUI (Graphical User Interface)
DNC-Max boasts a professional look and feel. In addition, the layout of dialogs, menus, and toolbars are simplified for ease-of-use and consistent with other professional Windows based software applications.
Client integrated into CIMCO Edit
In addition to the stand-alone DNC-Max, the full DNC-Client is now also available inside the editor, making CIMCO Edit a universal application interface for both NC-Base and DNC-Max users.
NC-Base User management
DNC-Max user management can be linked to NC-Base, allowing 'per port' user access control.
Pocket PC Client
The DNC-Max Pocket PC client supports basic transfer and monitoring functions, from any Microsoft Pocket PC (2002/2003) compatible PDA.
V5 Boasts many major and minor improvements
Over 300 minor updates/fixes compared to the last V4 release. Unlike any other DNC product – DNC-Max has been consistently and constantly improved and enhanced over the past decade – with over 500 hundred point releases in Version 4 alone!
License Server Support allows users the flexibility of licensing the exact number of applications needed for your unique system configuration. Supports floating licenses for DNC-Max Client and CIMCO Edit.
www.cimco.dk